Ryan Smith Scores a WoO Port Royal Win for the PA Posse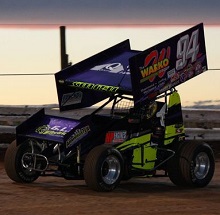 October 25th. The Pennsylvania Posse claimed victory over the Outlaws Saturday night at Port Royal Speedway as Kunkletown, PA-native Ryan Smith scored his first career World of Outlaws STP Sprint Car Series victory in his XXX Sprint Car chassis. After an intense battle with series points leader Donny Schatz that lasted through the second half of the feature, Smith, 26, rolled his car into victory lane to roaring applause from the crowd and chants of 'Posse! Posse! Posse!' "Yeah, I don't know what to say. We just beat the Outlaws!" said Smith, the 23rd different winner and sixth different first-time winner this season. "It's a team effort. To stand here when the Outlaws are here makes it that much better." .
Read full story ...
Quinn Wins Mayors Cup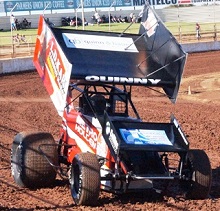 October 25th. Back in victory lane for the first time this season was Brendan Quinn in his 360ci powered XXX Sprint Car. Quinn was the winner of the 2014 Mayors Cup at Speedway City in South Australia, racing from fourth to take the lead with just nine laps remaining on his way to the victory. XXX chassis took positions one and three on the final podium, with Sam Putland rallying to score third.
Reutzel Rules Wednesday's STN Open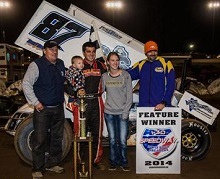 October 22th. Aaron Reutzel has taken a liking to I-30 Speedway. Or, perhaps, I-30 Speedway has taken a liking to Aaron Reutzel. Either way, the Clute, TX, racer remained perfect atop the high-banked, ¼-mile clay oval in 2014 by besting a field of 66 competitors in Wednesday night's Second Annual STN Open that kicked off the track's 27th Annual Short Track Nationals.
Read full story ...
Covington Wins Winter Nationals at Devil's Bowl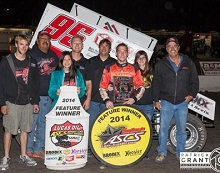 October 18th. Of all the places Matt Covington wanted to win a race at, Devil's Bowl Speedway in Mesquite, TX was the most important. On Saturday night, Covington crossed the big half mile off his list by beating the Lucas Oil ASCS National Tour in his XXX chassis. Covington led every lap of the main event from his outside pole position, only allowing the field to close while in traffic, which he reached by lap 5. Congratulations Matt, Eric, Bill and the crew on the big victory!
Michael Closes URC Season with Win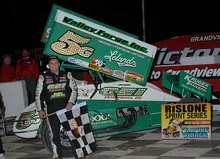 October 19th. Curt Michael finished the 2014 URC season with his third win over the series and fourth win overall of the year on Saturday night. Grandview Speedway was the home for two of the previous wins, and despite a tenth place starting spot, Michael picked up his third win of the year at Grandview, working forward to take the lead on lap 22 in the Bill Gallagher owned #5g XXX.
Thomas Picks Up Midget Win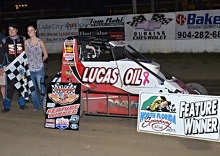 October 18th. Gavin Thomas has been a 600 ace for a long time, but on Saturday night, he turned his talents into a Midget win. Running the Wayne Davis XXX with the Southern State Midget Series, Thomas took over pilot duties from an absent Trey Pearson and scored the win at North Florida Speedway in Lake City, FL on Saturday night.
Geiges Wins at Port Royal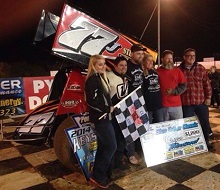 October 11th. The biggest gathering of the year for 305 sprints in PA ended with Jeff Geiges from New Jersey taking the $1,000 winner's check over the field of 48 cars. Jeff started in sixth and worked his way forward to second on lap six. On a lap 13 restart, Geiges powered to the bottom of the track and took over the lead, then held strong over the final few circuits at "The Speed Palace", Port Royal Speedway to grab the most prestigious win of his career in his XXX chassis.
Newlin Wins All Sprint Nats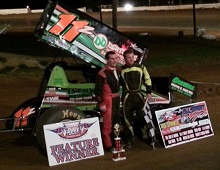 October 4th. 14 cars gathered for the 14th annual All Sprint Nationals at Path Valley Speedway in Spring Run, PA. When the dust settled, Zach Newlin emerged victorius after leading all 25 laps of the main event in his XXX chassis. Congratulations to Zach and the entire Newlin family on the victory.
Boden Wins Indoors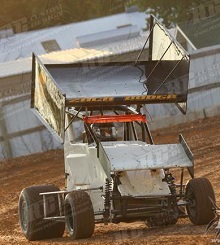 October 4th. With fall weather prevalent, racing has moved indoors in many places across the US. In Wisconsin, 600 racing has gone inside for the cold season, and Zach Boden took full advantage of the indoor conditions, scoring his first win in his XXX. Biden won the main event at the 1/6 mile long Cedar Lake Arena on Saturday. Fellow Team XXX driver Dan Henning took his XXX to a third place finish as XXX chassis dominated racing on the evening.
Smith Sweeps Weekend in XXX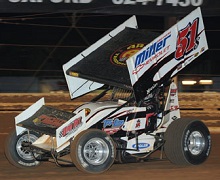 September 26th and 27th. Stevie Smith made a statement this past weekend in Central PA. That statement read: When big money is on the line, the conversation starts with The Black Bandit. One week before the 2014 National Open, Smith took the Fred Rahmer owned #51s XXX to back to back wins on Friday and Saturday night, collecting $24,000 for his efforts. On Friday night at Williams Grove, Smith and Greg Hodnett engaged in an epic duel with the two exchanging move after move in clean air before hitting traffic. Hodnett held the early advantage amongst slower cars but Smith had the ability to move is XXX to any part of the track he wanted, eventually using a slidejob in the three and four to grab the lead for around the halfway point of the race before taking the $4,000 win. On Saturday night, Lincoln Speedway hosted the first Dirt Classic presented by Kasey Kahne for $20,000 to win. Using a modified Knoxville format, Smith was second quick in time trials, won his first heat race and finished third in his second heat to earn the pole for the main event. After fellow XXX driver Lance Dewease beat him out of the gates, Smith grabbed the lead on lap 2 and clicked off the remaining 38 circuits with ease to grab the victory ahead of Dewease, making it an XXX 1-2 finish. The $20,000 payday was the biggest in Lincoln history, and one of Smith's biggest scores of his legendary career.
TeamXXX News Archive....



Featured Product
Our Press Guys Can't Keep Up With The Wins
BAD FOR THEM. GOOD FOR YOU.

Win a FREE T-SHIRT!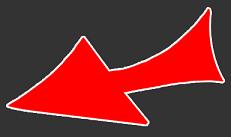 Be the first to inform us of a XXX A-Main (Feature) chassis win that is not listed in the "Latest TeamXXX News" (column to the left) by Monday at 5:00pm PST, and you will win an absolutey free T-Shirt. Don't forget to hit Refresh on your browser before entering, not to toot our own horn, but we are contantly updating the winners. Simply click here to submit an entry.
Hoffman and Bacon Take on USAC in 2014
| | |
| --- | --- |
| | For their 85th year of Sprint Car Racing, the Hoffman Auto Racing team has once again selected one of the top young drivers in the country, Brady Bacon, to compete for the USAC National Championship in 2014. The team will be looking forward to extending their lead in the USAC All Time Wins list, and Bacon will look to build on a late season surge that has the "Broken Arrow Bandit" primed for championship results. |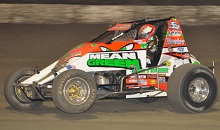 Consistency was the hallmark for Bacon and the Hoffman Auto Racing team in 2013. Bacon continually put the Mean Green #69 XXX in the top ten, and often top five, night after night. Following a strong start in Florida, where Brady took two thirds and a sixth, Bacon tackled the tough competition in the Midwest while also splitting time driving his own Fatheadz Eyewear #99 XXX in winged 410 competition. Brady ended up with two sprint car wins on the season, the first coming with the Hoffman team at I-96 Speedway in Lake Odessa, MI which was the 82nd career win for Hoffman Auto Racing in USAC competition. Bacon was a winner in his own car at Eldora in October, winning a thrilling race in freezing cold conditions.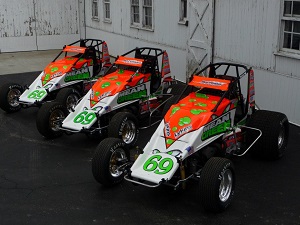 "I am extremely excited about our 2014 campaign. We had an extremely strong team at the end of 2013 and I hope we can build on that. I know the whole team has been working tirelessly throughout the offseason to ensure we have the best equipment possible to compete for the USAC championship" said Brady.

Richard Hoffman, owner and president of Hoffman Auto Racing: "When my father founded Hoffman Racing in 1929, he hoped the family racing tradition would continue and here we are, 85 later, with three generations of the family involved and still a championship contender. We had a good first full season with Brady and we are excited to compete for our 10th USAC National Sprint Car Championship." VP of Engineering, Rob Hoffman added: "Brady and I have had a year experience working together with the XXX car and his shock package and we made big strides. We were fast every race and with a little more luck this year, we will be knocking on the door for championship number 10."
Hoffman Auto Racing and Brady Bacon both choose XXX Chassis for Sprint Car competition. Follow results for Brady and the Hoffman Auto Racing team at www.bradybaconracing.com and www.hoffmanracing.com. Brady and the Hoffman Auto Racing team kick off USAC competition February 19th at Bubba Raceway Park in Ocala, FL.
The Posse Roster Gets Even Stronger!
The incredible 2013 campaign for Team XXX in Pennsylvania culminated with our first National Open win, courtesy Fred Rahmer and the Sell Racing Team. With Fred calling it a career, how could Team XXX top everything we did last year? By adding 2 more future Hall of Famers to the Roster! Team XXX is once again "Posse Strong", with the following drivers slated for competition in XXX Chassis in 2014 ...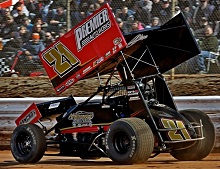 No driver was hotter down the stretch of 2013 than "The Edge", Brian Montieth. The Phoenixville, PA native piloted the Jerry Parrish/Premier Auto Works #21 XXX to four wins over the final six weeks of competition, and captured nine total victories during the year. Montieth was "Mr Memorial" in 2013, winning the Weldon Sterner, Brandon Little, Billy Kimmel and Kenny Weld Memorial races over the course of the season. The Premier Racing team returns to its roots with a retro red design this year.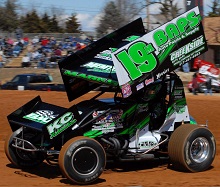 Brent Marks is stepping up his travel schedule in 2014. The "Myerstown Missile" has over 100 shows scheduled this year, including trips to Florida Speedweek, The Kings Royal and a return visit to the Knoxville Nationals. A multiple time winner in 2013, Marks will not be running for a points title this year, opting instead to take his family owned #19m XXX to as many different tracks and venues as possible as he furthers his racing career.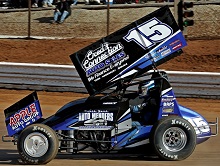 Adam Wilt returns again to Team XXX in 2014 with tons of momentum carried over from last season. Hailing form York, PA, Wilt was a consistent top five finisher over the final two months of last year, and comes into this year's campaign with "Lethal" Lee Stauffer now turning wrenches on his North York Auto Menders #15 XXX.
Derek Sell returns to the seat of his father's #20s XXX this year on a part time basis. A Penn State student, Sell won $10,010 at Susquehanna in October in only his second race of the year.
The first of our new drivers to our list, Team XXX is excited to welcome Lance Dewease to the roster in 2014. Racing with Dietz Motorsports, The Fayetteville, PA driver will pilot a XXX chassis for the first time in February.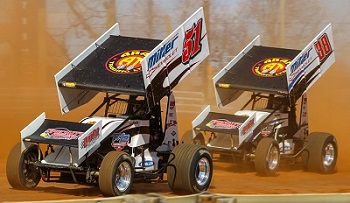 While retired from the cockpit, Fred Rahmer will continue to have an impact for XXX under his new role: Team Owner. The Salfordville, PA Hall of Famer will be the car owner for his sons Freddie and Brandon at Lincoln Speedway, and field a car for The Black Bandit himself, Stevie Smith, at time trial shows around the area. Crew chief Moon Byers returns to help with setup and crew duties on the cars.
The Panhard/Watts Link 600 Fusion is Here!
2014 marks the debut of a brand new chassis from Triple X Race Components: The 600 Mini Sprint Panhard/Watts Link Fusion Chassis! We've taken all of the elements that have made our watts link style 600 a winning car from coast to coast and internationally and fused them with winning designs for panhard rear axle assemblies to give you one chassis that can run and win with either setup!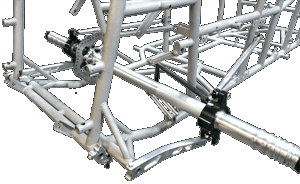 The call for Triple X to build a chassis incorporating mounts for both a panhard rear axle setup and a watts link setup were loud and strong. To accomplish this, we've improved upon our already strong watts link setup by changing our rear tube geometry. We've extended the right rear torsion tube outward, allowing us to incorporate a zero deflection right rear arm in to the watts link setup, allowing for more balanced rear drive. By taking nearly three inches of offset out of the rear arm, we've created a car that grips and drives more evenly off both rear tires, creating more forward bite and corner exit speed to go along with our chassis natural inclination to rotate at the center of the corner. This in turn has also led us to a strong rear arm that lasts longer and delivers value to you.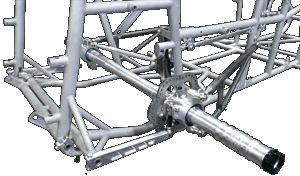 The panhard style rear axle assembly gives teams the option to control their roll center from the cockpit during the race. Fully setup to work with our panhard handle cockpit adjuster, teams who are looking for an in race option to adjust their weight transfer have a simple to use option now available from XXX. We've created an easy to order panhard conversion package for those looking to retrofit a panhard rear axle assembly to their XXX chassis, and have a brand new XXX 600 Mini Sprint Core Kit for those of you looking to start your operation from the ground up.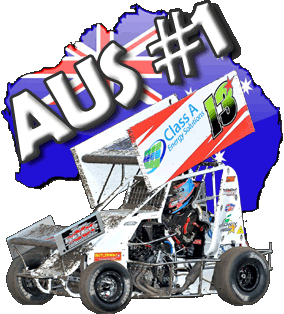 The Panhard/Watts Link Fusion Chassis enters the market on the back of huge success for our 600 program over the back half of 2013 and into early 2014, highlighted by Australian National Champion Brock Hallett. After being runner up at the 2013 National Title, Hallett and his new team, Cates Motorsport, rode to victory at Perth Motorplex in Western Australia to earn the right to be AU #1 for the next calendar year. Hallett also put together 4 other wins over the course of the 2013-2014 campaign for the new team.
Dylan Willsher also brought international accolades to Team XXX, winning the Tasmanian State Title on February 8th. With four wins over the course of his 2013-2014 campaign, Willsher helped keep XXX 600's at the forefront of the conversation in Australia this past season.
The all-new 600 Panhard/Watts Link Fusion Chassis and components are in stock and available to ship out immediately! Contact us or go to your nearest authorized XXX dealer and order your race winning chassis today!
Continued Growth for XXX Midget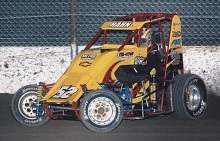 The XXX Midget continues to grow and succeed, both domestically and internationally, with the most recent major triumph coming at the 2014 Tulsa Shootout where Blake Hahn won a Golden Driller in the EcoTec Midget division. This was the second time Hahn has won a Driller in a XXX midget and the third win for XXX in the past four shootouts.

Hahn made easy work of the EcoTec Midget division at this year's Tulsa Shootout. Over the 3 day event, he was consistently the fastest car on the track. After running third in his heat race, Hahn won his qualifier from 5th. This slated him from an outside pole position start on the main, which he parlayed into an easy win.

Hahn's Tulsa Shootout win highlighted the 2013 calendar year for XXX midgets, which saw drivers win all over the country. Shane Cockrum and Tyler Thomas led the charge in the Midwest, with Cockrum taking a Powri win on April 26th and Thomas winning the Twister Nationals at I-44 Speedway in Oklahoma in the month of October. Matt Smith was an international winner on October 26th at Archerfield Speedway in Brisbane, AU. Tony Rossi won twice against the RMMRA in Colorado, and Jared Peterson, Derek Holmwood and Ariel Biggs all collected wins on the West Coast in 2013.
XXX Midgets Ready To Ship
XXX Midget Kits are in stock and available for immediate shipping. Chassis and body kits begin at $2757.00. XXX Midget components are compatible with our chassis and with most major manufacturers in the market today.
Tell Us What You Think
Fill out a customer satisfaction survey...
Submit
a testimonial ...



38 XXX Chassis
Champions in 2014

Brady Bacon
2014 USAC Eastern Storm Champion

Brent Marks
2014 Living Legends Dream Race Champion

Stevie Smith
2014 Mitch Smith Memorial Champion
2014 Kasey Kahne Dirt Classic Champion

Matt Covington
2014 ASCS Jackson Nationals Champion

Colin Baker / Hedge Carter Motorsports
2014 ASCS NW Champion
2014 Cottage Grove 360 Champion

Kyle Moody
2014 Kevin Gobrecht Memorial Champion

Tyler Thomas
2014 POWRi SPEED Week Champion

Aaron Ott
2014 360 National Open Champion

Scotty Theil
2014 UMSS Open Wheel Nationals Champion

J Kinder
2014 Knoxville 305 Season Champion

Nick Kirkegaard
2014 Lone Tree Race Park 600 Champion

J.J. Grasso
2014 Gohn Memorial Champion

Brian Montieth
2014 Hilly Rife Memorial Champion

Jim Siegel
2014 Weldon Sterner Memorial Champion

Ryan Hunsinger
2014 Ohsweken Speedway Crate Sprint Champion

Brock Hallett
2014 Australia Formula 500 National Champion

Jerry Richert Jr
2014 UMSS Mighty Axe Nationals Champion

Ben White
2014 English Champion
2014 UK Long Track Champion

Colton Heath
2014 STSS Champion
2014 Skagit Speedway 360 Champion

Troy Jordan
2013/2014 Lucas Oil Southern Speedcar Series Champion
2013/2014 VSDA Champion

Jimmy Christian
2014 Walt Bronco Memorial Champion

Duncan Panton
2014 UK Sprint Car Dirt Champion

Andy Erksine
2014 Central Motor Speedway Champion
2014 Central Otogo Sprint Car Champion

Daniel Thomas
2014 King Country Six Shooter Champion
2014 New Zealand Six Shooter Champion

Wayne Johnson
2014 Ronald Laney Memorial King of the 360s

Dylan Willsher
2014 Tasmanian Formula 500 Champion

Travis Rilat
2014 Tyson Perez Memorial Champion

Blake Hahn
2014 Tulsa Shootout ECOtec Midget Champion

Jamie Larson
2014 Ruapuna Speedway Gold Cup Champion

Jason Scott
2014 New Zealand South Island Champion
2014 War Of Wings Champion
287 XXX Chassis
Wins in 2014
Date
Driver
Track/Series/Location
10/25
Ryan Smith

Port Royal Speedway Port Royal, PA

10/25
Brendan Quinn
Mayors Cup
Speedway City
Adelaide, South Australia
10/22
Aaron Reutzel

Short Track Nationals Prelim I-30 Speedway Little Rock, AK

10/19
Curt Michael

URC Grandview Speedway Bechtelsville, PA

10/18
Matt Covington

Lucas Oil ASCS National Tour Devil's Bowl Speedway Mesquite, TX

10/18
Gavin Thomas (Midget)
Southern States Midget Series
North Florida Speedway Lake City, FL
10/11
Jeff Geiges
Port Royal Speedway
Port Royal, PA
10/4
Zach Newlin
PASS Path Valley Speedway
Spring Run, PA
10/4
Zach Boden (600)
Cedar Lake Arena
New Richmond, WIA
9/27
Stevie Smith

Kasey Kahne Dirt Classic Lincoln Speedway Abbottstown, PA

9/27
Evan Mosley (600)

US 24 Speedway Logansport, IN

9/27
Aaron Ott

360 National Open Selinsgrove Speedway Selinsgrove, PA

9/27
Jay Cole

Grays Harbor Raceway Elma, WA

9/27
Andy Bradley (1200)

Bloomington Speedway Bloomington, IN

9/26
Stevie Smith

Williams Grove Speedway Mechanicsburg, PA

9/26
Jimmy Christian (Non-Wing)

Ocean Speedway Watsonville, CA

9/21
Brady Bacon (Non-Wing)
4 Crown Nationals
USAC National Sprint Cars
Eldora Speedway
Rossburg, OH
9/21
Curt Michael
Susquehanna Speedway Park
Newberrytown, PA
9/20
Lorne Wofford
ASCS SW
Tuscon International Raceway
Tuscon, AZ
9/20
Kyle Clark (Non-Wing)
Creek County Speedway
Sapulpa, OK
9/20
Colby Carter
Cottage Grove Speedway Cottage Grove, OR
9/20
Skylar Gee
Central Alberta Raceway
Rimbey, AB
9/20
Trey Pearson (Midget)
Southern States Midget Series
North Florida Speedway
lake City, FL
9/19
Lance Sargent (Midget)
NW USAC HPD Midgets
Deming Speedway
Deming, WA
9/19
Brent Marks
Williams Grove Speedway
Mechanicsburg, PA
9/19
Evan Mosley (600)

US 24 Speedway Logansport, IN

9/18
Brady Bacon (Non-Wing)
USAC National Sprint Cars
Terre Haute Action Track
Terre Haute, IN
9/13
Kyle Miller

Cottage Grove Speedway Cottage Grove, OR

9/13
Mike Miller (Non-Wing)

Waynesfield Raceway Park Waynesfield, OH

9/13
Eric Fisher
Skagit Speedway
Alger, WA
9/12
Brian Montieth

Williams Grove Speedway Mechanicsburg, PA

9/12
Ryan Hunsinger

Ohsweken Speedway Ohsweken, ON Canada

9/11
Ryan Bowers
Sprint Invaders
Farley Speedway
Farley, IA
9/6
Duncan Panton
European Championship
Warneton Speedway Warneton-Ploegstart, Belgium
9/6
Dave Ekern
I-90 Speedway
Hartford, SD
9/6
Billy Aton

Petaluma Speedway Petaluma, CA

9/6
Jeff Geiges
NERS
New Egypt Speedway
New Egypt, NJ
9/6
Ryan Bowers
UMSS
Cedar Lake Speedway
New Richmond, WI
9/6
Kyle Miller (Non-Wing)
Cottage Grove Wingless Nationals
NWWT
Cottage Grove Speedway Cottage Grove, OR
9/5
Stevie Smith
All Star Circuit of Champions
Port Royal Speedway
Port Royal, PA
9/5
Danny Varin
CRSA
Albany Saratoga Speedway Malta, NY
9/5
Greg Gunderson (600)
St Croix Valley Raceway
St Croix Falls, WI
8/31
Jerry Richert Jr

UMSS Mighty Axe Nationals North Central Speedway Brainerd, MN

8/31
Jared Peterson

Grays Harbor Raceway Elma, WA

8/31
Matt Covington
ASCS National
Jackson Sprint Car Nationals
8/31
Brian Montieth
Lincoln Speedway
Abbottstown, PA
8/31
Austin Sheridan (600)
Airport Raceway
Garden City, KS
8/30
Rick Wilson

Southern Ontario Sprints Brighton Speedway Brighton, ON Canada

8/30
Ryan Bowers
UMSS
North Central Speedway
Brainerd, MN
8/30
Mike Miller (Non-Wing)

Waynesfield Raceway Park Waynesfield, OH

8/30
Mickey Walker

Creek County Speedway Sapulpa, OK

8/30
Nick Daywalt (DLX 1200)
Wilmot Raceway
Wilmot, WI
8/28
Zach McCabe
Skagit Speedway
Alger, WA
8/24
Aaron Schuck (Midget)
IMRA
Quad City Speedway
East Moline, IL
8/23
Brian McClelland
OCRS
Southern Oklahoma Speedway
Ardmore, OK
8/23
Barry Martinez
Skagit Speedway
Alger, WA
8/23
Dustin Purdy
CRSA
Five Mile Point Speedway
Kirkwood, NY
8/23
Shayle Bade
Eagle Raceway
Eagle, NE
8/23
David Ferguson
Canandaigua Motorsports Park
Canandaigua, NY
8/22
Isaac Abenroth (600)
Deming Speedway
Deming, WA
8/22
Colby Estes (600)
Mountain Creek Speedway
Grand Prairie, TX
8/16
Trey Pearson (Midget)
Southern State Midget Series
North Florida Speedway Lake City, FL
8/16
Jake Williams
SCONE
Bear Ridge Speedway
Bradford, VT
8/16
Evan Mosley (600)

US 24 Speedway Logansport, IN

8/16
Colton Heath
Skagit Speedway
Alger, WA
8/16
Eric Lutz
I-90 Speedway
Hartford, SD
8/16
Mike Bonneau (Non-Wing)
USAC SW
Dodge City Raceway Park
Dodge City, KS
8/15
Brent Marks
Williams Grove Speedway
Mechanicsburg, PA
8/15
Jimmy Christian (Non-Wing)

Ocean Speedway Watsonville, CA

8/15
Sean MacDonnell
Castrol Raceway
Edmonton, AL
8/15
Nathan Skaggs
COVSCA
Midway Speedway
Crooksville, OH
8/14
Brady Bacon (Non-Wing)
USAC SW
Creek County Speedway
Sapulpa, OK
8/10
John Braim
America's Motorsports Park
Clearfield, PA
8/10
Aaron Schuck (Midget)
IMRA Midget Series
Quad City Speedway
East Moline, IL
8/9
Colton Heath
Skagit Speedway
Alger, WA
8/9
Lance Dewease
Port Royal Speedway
Port Royal, PA
8/9
Ryan Bowers
UMSS
Ogilvie Raceway
Ogilvie, MN
8/9
Evan Mosley (600)

US 24 Speedway Logansport, IN

8/9
Nathan Skaggs
OVSCA
West Virginia Motor Speedway
Parkersburg, WV
8/9
Tristin Thomas
NW USAC HPD Midgets
Sunset Speedway
Banks, OR
8/9
Cory Samuelson
Skagit Speedway
Alger, WA
8/8
Ryan Hunsinger
Ohsweken Speedway
Oshweken, ONT
8/9
Lance Dewease
Port Royal Speedway
Port Royal, PA
8/2
Brent Marks
Living Legends Dream Race
Port Royal Speedway
Port Royal, PA
8/2
Scotty Thiel
IRA
Beaver Dam Raceway
Beaver Dam, WI
8/2
Aaron Schuck (Midget)
IMRA
Sycamore Speedway
Sycamore, IL
8/2
Steve Parker
Skagit Speedway
Alger, WA
8/2
Tristin Thomas
NW USAC HPD Midgets
Skagit Speedway
Alger, WA
8/2
Mitchell Moore (Non-Wing)
I-35 Speedway
Winston, MO
8/2
Duncan Panton
UK Sprint Car Dirt Championship
Coventry Stadium
Coventry, Warwickshire, UK
8/2
Kyle Clark

Creek County Speedway Sapulpa, OK
Click a link for a complete listing of chassis results ...
Sprint Car
Midget
600 Mini Sprint